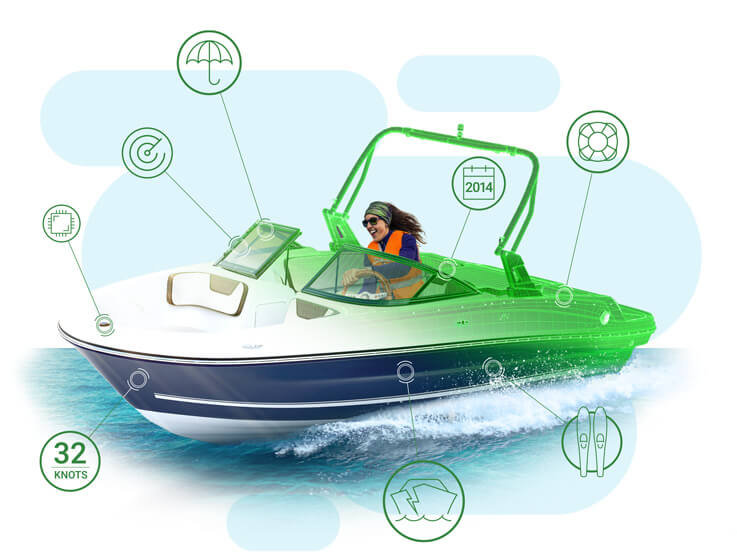 Boat Insurance
Looking for your best coverage? Welcome aboard!
Set a course for lower boat insurance rates.
Connect With An Agent
Insurance options that'll make you

do the wave.

At Goosehead, our agents aren't bound to one insurance company. We search far and wide to help you find the best boat insurance rates and coverage that fit your boat like a custom slip.
We're here to help you

navigate your options. 

At the lake or at sea, you may see anything from a 12' bass boat to a 60' cruiser. Boaters face an array of potential liabilities that are as diverse as the vessels themselves. From mishaps and collisions, to storms and surging waves, boating comes with inherent risks. At Goosehead, we evaluate policies from dozens of the industry's leading boat insurance companies, to help you get the policy that is best for you. Life on the water is fun. With the right boat insurance in place, you can keep it that way.

Cover your crew
Okay, let's be honest: people are more carefree on a boat than in a car. Which means accidents can happen. We can help protect you from injuries and additional liability, without going overboard.

Cover the uncovered
Roads aren't the only place you'll find uninsured or underinsured drivers. Our lakes, rivers and shores are full of them. If an uninsured or underinsured driver damages your boat, your coverage can help keep you from getting left high and dry.

Cover bow to stern
Collisions are just one of the risks your boat may sustain. A comprehensive policy can help keep you above water in the event of a fire, storm or theft — or during transport to and from the water.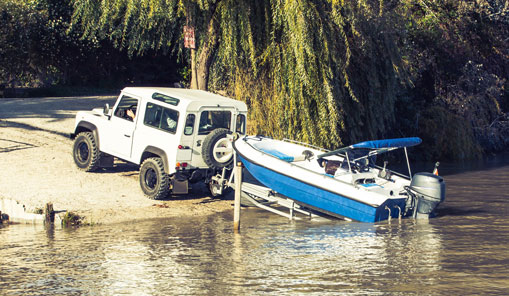 Boat Insurance
"Ryan was able to save me money through bundling auto, renters & boat insurance."
- Daniel, Tyler, TX
Boats offer a level of freedom that cannot be matched by other vehicles. But along with all the fun comes some danger and the potential for disaster. The right boat insurance policy can help protect you, your family and others from the hazards of boating. Read more >
With Goosehead, getting coverage is

smooth sailing.
"PERSONALIZED"
I appreciated how Shannon came fully prepared with multiple options that felt thoughtful and personalized to my needs.
Craig H ., Decatur, GA
"PROFESSIONAL"
Leslie was very professional and quickly responded to all questions I may have had. She was able to save my family lots of money on car, boat, travel trailer and home insurance. I have recommended her to co-workers, family and friends and will continue to do so.
Brandon M ., Kyle, TX
"THOROUGH"
Ben was very thorough in his explanations of the different coverages, not only for the homeowners part, but also the auto and umbrella policy coverages. Also detailed the premiums in an easy to follow format. Couldn't have asked for better information and detail.
Curtis J ., Denton, TX
"INFORMATIVE"
Mike was extremely informative while providing advice about getting the coverage we needed for our home, cars, and boat. He was prompt in answering my questions and providing updated information. I give him an A+.
Monique W ., Austin, TX
"SAVE"
Very knowledgeable and focused on my insurance needs. Helped save money and noticed that my umbrella policy needed properties to have 300K liability to be effective in case it was ever needed .
Susan H ., Venice, FL
"SAVE"
I was referred to Ryan by a friend of mine as I was in search of a policy for my boat and Ryan was able to save me money through bundling auto, renters & boat insurance. He made the process easy and got me all set up within a few days! I will gladly refer others to him in the future!
Daniel M ., Tyler, TX
"AWESOME"
Catherine Landin is awesome! She and I started chatting on Saturday and yesterday (Tuesday), I pulled the trigger. She worked tirelessly to help me through my quotes and my policies. I moved over my home, car, and umbrella. She has been absolutely fantastic!!
Kirk L ., Tomball, TX
"FANTASTIC"
Jordan was truly fantastic. We are in the middle of relocating and Jordan made shopping for homeowners, auto, and umbrella insurance easy! He is very patient, answered all my questions, communicated with me constantly and went above and beyond for us. I highly recommend Jordan!
Erica S ., Montagomery, TX
"THOROUGH"
Rhys was very thorough in comparing my home, auto and umbrella policies. I was pretty persistent in trying to compare other products and Rhys never became impatient. I'll definitely let my realtor and loan officer know that I recommend his services.
Eric M ., Cedar Park, TX
"FIVE"
Greg consolidated coverage on our five homes, three autos and a two boats, plus covered them all with an umbrella policy for us... across three states in which we live. He closed gaps and fixed big mistakes and oversights by our prior agents, and saved us money in the process! Well done!!
William J ., Lac Du Flambeau, WI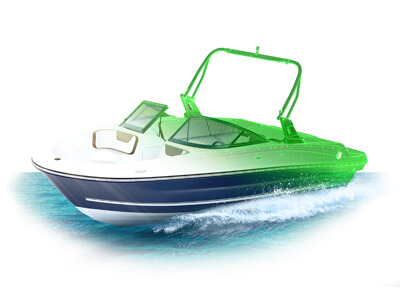 It's an easy cruise to your best boat coverage.
Our agents are trained and ready to steer you to just the right coverage for your watercraft and your budget. Just give us a little info, and you'll be well on your way!
Connect with an agent