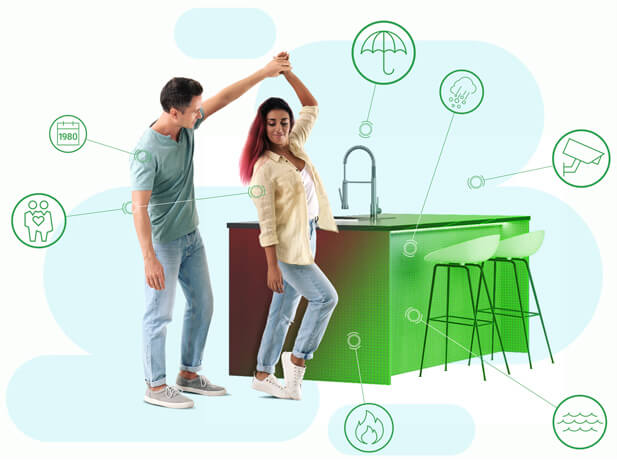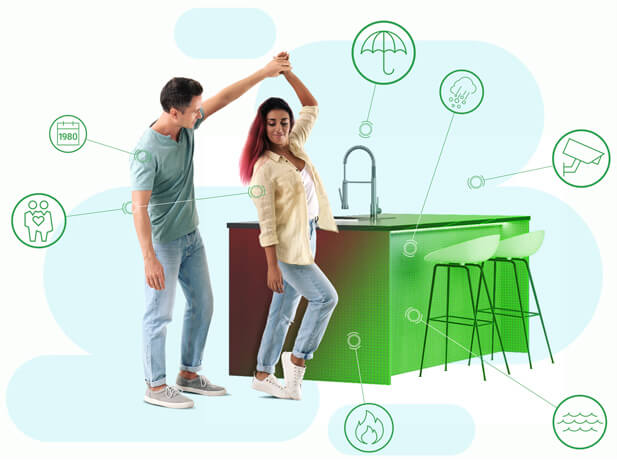 Condo Insurance
Great condo coverage. From top to bottom.
Just the right insurance,

just for condos.

Your HOA covers part of your condo. We cover the rest. Your Goosehead agent is ready to help you find the condo insurance policy that best fits your property, your lifestyle and your budget.
Get to know condo coverage

Better than your neighbors.

From an insurance standpoint, high rises, townhomes and condos can be, well, a little different. HOAs cover some parts of the property, leaving other areas up to you. Your unique situation calls for your own unique coverage. By evaluating the terms and costs of dozens of the industry's most respected insurance companies, we can help you home in on a policy that provides the coverage you need — at rates you'll feel right at home with.

Cover what's yours
You've furnished your skyline view—let's help you protect it. Your condo association typically covers the exterior of your condo, but your condo insurance policy will help protect everything inside your walls.

Drip, drip, drip
Most people associate water damage with roof leaks and foundation problems. But sewer backup and slow leaks can cause serious damage — and serious expense, if not added to your policy.

A safe getaway
Is your condo a secondary home? That could make a difference in your insurance needs. Depending on whether you use it as a vacation home, a weekend getaway, or a part-time residence/part-time vacation rental, we'll help find a policy that's right for you.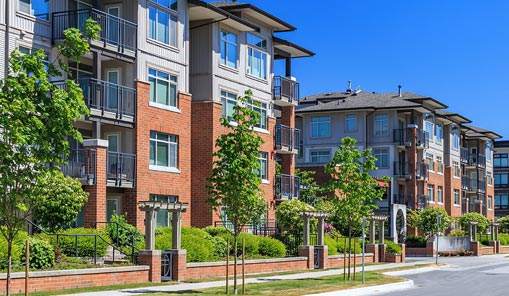 Condo Insurance
"Tim presented our condo association with a fantastic policy and great price."
- Mary, Springfield, PA
When you own a condo, you are responsible for the interior of your unit and any of your personal belongings inside. Condo insurance provides protection for all of those things, as well as providing personal liability coverage, loss assessment coverage, and other benefits such as living expenses coverage if you can't live in your condo because of a covered peril.
Read more >
We do the hard part

so you can take it easy.
"APPRECIATE"
Allison took a good amount of time to answer my questions and look at several options for my condo insurance policy. I truly appreciate Allison's time, concern, and expertise on this.
Maria S ., Detroit, MI
"PROMPT"
Prompt service and great communication while helping us navigate the complexities and specific needs of walls-in condo insurance.
Phillip K ., Dallas, TX
"PLEASANT"
Kirstin is very nice and pleasant to deal with. She is very quick to answer our calls and patient with my silly questions. Best of all, she got us new policies for our auto and condo insurance that will save us lots of money!
Deborah N ., Taneytown, MD
"PROFESSIONAL"
Meg was very knowledgeble, personable and saved us 35% on our condo policy with better coverage! Can't ask for better than that and I look forward to working with Meg as we search for the perfect HH property.
Wendy O ., Greensboro, NC
"BETTER"
I needed insurance at a given price point to complete a condo sale. Mike was able to find a policy that fit my budget and gave me better than expected coverage.
Edward G ., Chicago, IL
"HELPFUL"
Paul was very helpful and took time to make sure I understood everything about the Condo policy. Very friendly.
Byron W ., Glendale, AZ
"SEAMLESS"
Shawn was very quick to assist in providing insurance quotes & coverage for a new condo purchase. Seamless to work with directly, and coordinating with all parties ... realtor, broker, & title. Super polite, very knowledgeable. A pleasure to deal with.
Sue G ., San Diego, CA
"FANTASTIC"
Tim presented our condo association with a fantastic policy and great price. We will save over $6,000 a year which is very significant for our small development. He even went out of his way to come to our board meeting to review the policy coverage.
Mary M ., Springfield, PA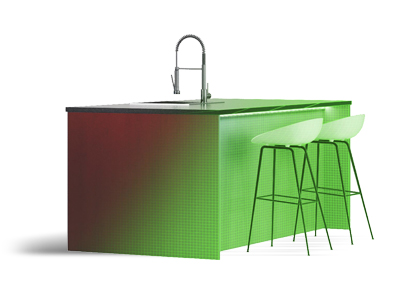 Get the coverage that towers above the rest.
You have a lot of options out there for insurance coverage. Fortunately, you also have Goosehead's tech wizardry to help you compare them and find what's best for you.
Let's do this